CARE: Customer Affordability of Residential Electricity
Minnesota Power is pleased to offer the CARE program, which offers income-qualified households a discount on monthly electric bills. The CARE program is administered by Minnesota Power.
If you are LIHEAP-qualified (Low Income Home Energy Assistance Program), you are eligible for a CARE program electric bill discount!
Find out more about Energy Assistance and becoming LIHEAP eligible here.
Program updates, effective January 1, 2020, include two discount options for customers.
Flat Discount
There is no application for this monthly $15 discount. LIHEAP qualified customers who are senior, or living with a disability, will be automatically enrolled.
Affordability Discount
This discount requires an application. Funds are limited and are offered first-come first-served. Apply for this discount if you spend more than 3% of your annual income on electric bills.
Follow these steps to start saving money on your electric bill:
Complete your LIHEAP application with your local energy assistance provider.

Find your local energy assistance provider here.
Call a CARE Representative at 218-355-3500, or fill out this printable form, and submit via email. OR submit online here.

Paper applications can be mailed to:

Minnesota Power
ATTN CARE
30 W Superior St
Duluth, MN 55802
Please note: Once enrolled on the CARE rate you will remain enrolled until you are no longer LIHEAP qualified. Therefore, you will need to reapply for LIHEAP with your local energy assistance provider every year.
---
Income Requirements
Households with income at or below 50 percent of the state median income may qualify for LIHEAP. Eligibility is based on the three most recent months of income. View the EAP eligibility guidelines here. Customers do not need to accept Energy Assistance funds in order to qualify for CARE, but they do need to apply for, and be accepted into, the program in order to receive any CARE discount.
What You Will Pay:
Flat Discount
When a bill is over $15, you will receive a $15 discount on that bill, each month.
Affordability Discount
This chart shows estimated monthly billing amounts and savings under the CARE Affordability Discount.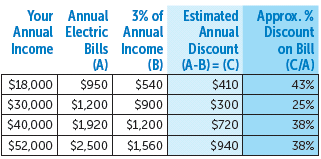 * Estimated monthly billing amounts include all items on bills (e.g., fuel adjustment, cost recovery rider adjustments, etc.) except sales tax and municipal franchise fees.
Other Information and Resources: