Let's hit the road and cut carbon emissions with EVs
Buckle up for the future in an electric vehicle! They're good for the environment, affordable and fun to drive. A growing network of public charging stations makes it convenient to charge on the go, and better batteries are extending the range of EVs.
Drivers like you are making the switch to electric vehicles for a variety of reasons: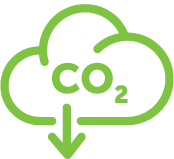 Lower CO2 emissions. EVs themselves have zero carbon emissions, and if you charge on our system, 50 percent of the electricity is from renewable sources.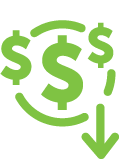 Lower operating cost. The lifetime cost of operating an EV is estimated to be one-third to one-half of a gasoline-powered car. Fewer moving parts means far less maintenance, and the cost of "fuel" is far lower.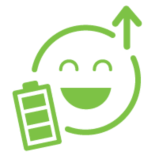 High fun factor. EVs have great acceleration and torque, making them a blast to drive. They're also quiet with little engine noise, so music and conversation come through loud and clear.
Residential EV Programs & Rebates
Residential EV Service Rate
Minnesota Power offers a discounted rate for residential customers charging an electric vehicle at home during offpeak times.
On-peak Energy Charge
(8:00 a.m. to 10:00 p.m. Monday through Friday, excluding holidays)
10.251¢/kWh
Off-peak Energy Charge
(All other times)
2.391¢/kWh
There will be a cost to install the additional meter. Minnesota Power can visit your home to make sure your electric service is adequate and provide other information you'll need for working with a licensed electrician.
Coming soon!!
Smart Charge Rewards Programs
Minnesota Power's Smart Charge Rewards Program lets you earn cash rewards for charging your vehicle during off-peak hours ANYWHERE in Minnesota Power's service territory. Whether you're at home, work, or on the go, you can earn rewards by charging at the right times!
Available awards:
Annual participation bonus:
$50
Off peak charging:
3¢/kWh (max $10)
No second service/meter required. Utilizes a GPS device to calculate rewards.
Rebates for EV owners
Rebate for adding Electric Vehicle Service
$500*
Unitl 12/31/2021
Terms & Conditions apply.
Level 2 Smart Charger Rebate
$500*
Unitl 12/31/2021
Terms & Conditions apply.
*Please allow 6-8 weeks for receipt of rebate check.
Customers participating in Minnesota Power's Residential EV Service Rate are eligible for a $500 rebate to help reduce the cost of installing a second service and meter.
Get a $500 rebate with the purchase of a Level 2 Smart Charger. It can take 10 to 12 hours to fully charge an electric vehicle with Level 1 charging, but you can charge your car three to four times faster by installing a 240-volt, Level 2 charger. Plus, a smart charger gives you more control of when and how quickly you charge. Customers must be participating in either the Residential EV Service Rate or Smart Charge Rewards program to qualify.
Click Here for eligible rebate equipment
Need more information?
Contact the Minnesota Power EV Group at electricvehicles@mnpower.com or by phone at 218-355-3152.
EV 101: What makes an EV an EV?
Plug-in electric vehicles use electricity from the grid instead of gasoline or other combustible fuels (or a combination in the case of a plug-in hybrid EV) to power themselves down the road. Batteries in the car store electricity and can be recharged when they run low.