Water Savings Kit
FREE Water Savings Kit Offer
Available on purchases made January 1–December 31, 2023 (while supplies last)
What is a Water Savings Kit?
Our Water Savings Kit is a energy- and water-saving kit a—$25 value! You must be a Minnesota Power residential customer with an electric water heater to qualify for the FREE Water Savings Kit.
How to Get Your Water Savings Kit
You will be required to enter an event code. If you have not been provided an event code elsewhere, please use WATERKIT.
To get your FREE Water Savings Kit in the mail, simply complete this form.
Your kit will arrive in six to eight weeks.
The Water Savings Kit must be installed in a home serviced by Minnesota Power. If you've received a Water Savings Kit within the last two years, you are not eligible for this offer. If you have a gas water heater, contact your gas utility about an energy- and water-saving kit.
The Water Savings Kit includes: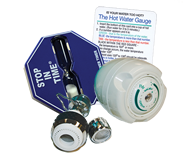 Water-saving showerhead
Two faucet aerators
Shower timer
Water temperature gauge
Helpful instructions
Additional information for saving energy and water
Stop Wasting Energy and Water to Get the Most Out of Your Energy Dollar
Most people are surprised to learn that the second largest energy consumer in the home, after space-conditioning, is water heating. Water heating represents up to 25% of energy used in a typical home. The SmartPak energy- and water-saving kit can help you significantly reduce your water usage where you use it most (i.e., baths, sinks and showers).