LED Bulbs
What are LEDs?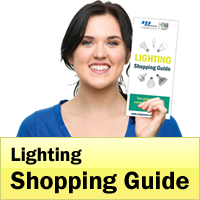 Light emitting diode (LED) replacement bulbs provide comparable energy savings to CFLs but are projected to last longer. These cutting-edge bulbs are up to 85 percent more efficient than traditional incandescent bulbs and offer an extremely long lamp life. They work best for task lighting like outdoor spots; downlights used for indoor recessed cans and track lighting; holiday lights; and reading or desk lamps because their major benefit is directional (uni-directional) or task lighting. Recent developments in LED technology has resulted in omni-directional or area lighting that can replace typical incandescent bulbs used in most light sockets. At this point they are equivalent to 40 watt and 60 watt incandescent bulbs. 75 watt and 100 watt equivalents are also becoming readily available
LED lights are often smaller and use less energy and heat than incandescent lights. Unlike fluorescent lights, LEDs contain no mercury. While they may cost more upfront, they deliver significant savings in the long run. An ENERGY STAR® certified LED can last 25 years on average, which far exceeds the lamp life of other lighting technologies, including incandescent bulbs, halogens and even CFLs.
For more information on LED bulbs, visit the ENERGY STAR® Web site.