Central Air Conditioning (CAC)
Rebates | Participating CAC Contractors | Furnace ECM Combo | ECM Circulator Rebate | Furnace Tips | Boilers with ECM Circulator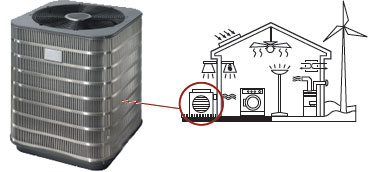 About one-sixth of all the electricity generated in the U.S. is used to air condition buildings.
The benefits of a proper installation include:
A properly installed standard Central Air Conditioner (CAC) or Air Source Heat Pump (ASHP) increases comfort, enhances the unit's life and saves you money.
Proper installation of a new unit ensures operational efficiency for future years.
Note: Studies show 75% of air conditioners operate below their rated performance.
Selecting the right size unit for your home along with correct installation to ensure proper airflow and refrigerant charge are critical to energy efficiency.
The proper installation of your Central Air Conditioner (Standard CAC or ASHP) includes three major services: an electrical check, an airflow check, and a refrigerant level check. The list below details those services to be completed under Minnesota Power's HVAC Rebate Program:
Electrical Check: Your contractor will check the amps at your furnace and condenser (indoor and outdoor units) to make sure the proper amount of electricity is being consumed for your equipment. This verification helps ensure efficiency by preventing your system from being overloaded.
Airflow Check: Proper airflow ensures that your air conditioner is able to cool your home as evenly as possible and helps keep your home's humidity under control. Your contractor will take measures to determine the difference in air temperature leaving and returning to your air conditioner is within 3°F of the manufacturer's recommended split. This verification helps ensure efficiency by preventing your system from being overloaded or consuming unnecessary energy.
Refrigerant Level Check (Including Line Length on Mini-split Ductless Heat Pumps): Your system's ability to operate at its peak efficiency is directly dependent on the amount of refrigerant it contains. Every air conditioner comes from the factory with a preset level of refrigerant (Freon); however, this level is rarely accurate. The level of refrigerant charge that your system needs is determined by every piece of equipment within that unique system, including the outdoor compressor, the indoor evaporator coil, and the line set between them. This verification helps ensure efficiency by verifying your system is able to operate at its optimal level of performance.
Note: The outside temperature must be at least 65°F to complete these services and verify measurements.
Participating contractors have been trained on the requirements for Minnesota Power's HVAC Rebate Program and must meet these requirements in order for you to qualify for the rebate. He or she will work to ensure your new Central Air Conditioner system—either standard CAC or ASHP—is properly installed. Their work should enhance the comfort and life of your CAC and also help improve the energy efficiency of the unit.
These are only a few of the factors that affect the performance of your central air conditioner. Upon completing these tests and services, your contractor may recommend other measures that will help improve the efficiency of your system, such as cleaning your furnace or adjusting your ductwork. While these additional measures are common and necessary to keep your equipment working properly, Minnesota Power only offers rebates toward the work performed on this checklist.