Minnesota Power sends two employees to help restore power in Puerto Rico
November 29, 2017
---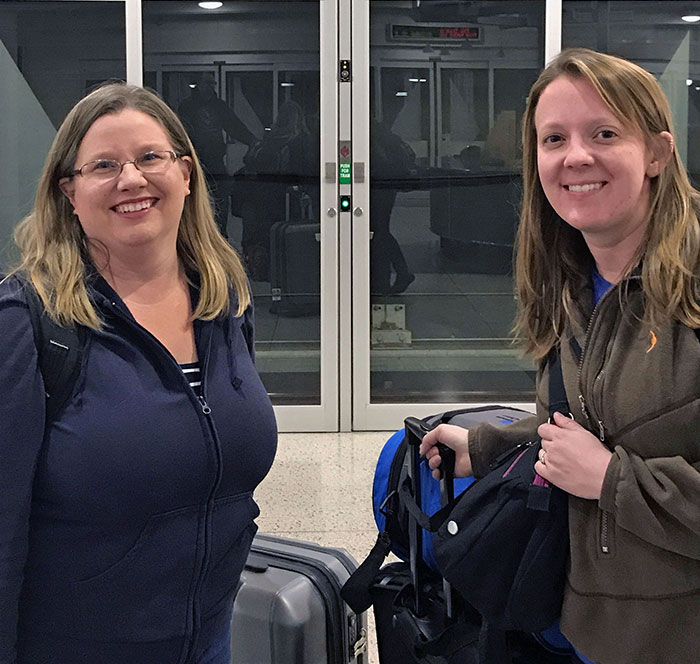 ---
Two members of Minnesota Power's logistics team are in Puerto Rico to support power restoration efforts in the American territory that was hit by hurricanes Irma and Maria.
Stephanie, SCADA systems analyst II, and Becky, engineer II, arrived in Puerto Rico on Tuesday, Nov. 28, and will assist with material logistics through Dec. 15. They will work with a team of volunteers formed by the Edison Electric Institute that also includes employees from Alliant Energy, DTE and Pepco. The team will be working at the Puerto Rico Electric Power Authority (PREPA) with the EEI Power Restoration Coordinators. The Power Restoration Coordinators are working with the Army Corps of Engineers and PREPA to develop a plan to move material such as power poles, transformers and power lines from ports to crews in the field.
Both worked on the emergency response logistics team during the July 2016 wind storm that devastated the Duluth area. Moore assisted with many aspects of the logistics operations and currently is the logistics site management lead, and Olson is the lodging and resources lead. Both played large roles in setting up the emergency response center for the storm.
They said they are looking forward to putting that knowledge to use while helping the people of Puerto Rico.
"We're going mostly for the experience, to help people out while restoring power and learning how such a big response works," Moore said. "That will help us here if we ever have a major storm again."
They'll be housed in a hotel in San Juan, Puerto Rico's capital, and said the focus now is getting the island's transmission system repaired and operating.
Stefanie Stollenwerk, manager of transmission and distribution support services and the company's logistics officer during emergency responses, said Olson and Moore are strong problem-solvers and good at thinking on their feet and executing creative solutions that keep logistics operations running effectively.
"We're proud of their commitment, that they were willing to take time away from their families to provide help to another utility and the people of Puerto Rico," she said. "It's a privilege to go there to help people get their lives back."
Stollenwerk said many people in the Duluth area experienced the stress of a prolonged power outage after the 2016 storm. Most customers then had power back after five days. Much of Puerto Rico has been without power for almost 70 days, with some areas expecting to be without power for up to four months.
"I don't know if we really can comprehend what that world is like," she said.
The Edison Electric Institute, the association that represents all U.S. investor-owned electric companies, is coordinating the companies' response in Puerto Rico. EEI said the entire industry has been poised to respond since the hurricanes hit Puerto Rico, but PREPA's formal request for assistance didn't come until Oct. 31. Minnesota Power volunteered immediately to send personnel to Puerto Rico, and was called upon for logistics assistance by EEI during the week leading up to Thanksgiving.
"EEI is working with our member companies, the American Public Power Association, our industry and government partners and the PREPA team to accelerate the restoration mission and to restore power as quickly and safely as possible to our fellow citizens in Puerto Rico," EEI President Tom Kuhn said in a statement.
Because so many people from different companies will be working under EEI's guidance, Moore and Olson said logistics teams are being staggered. They'll work with an outgoing team for a few days to get familiar with the demands of the job, and will in turn train an incoming team before they leave Puerto Rico.
Olson and Moore volunteered to travel to Puerto Rico when asked whether they would be able to go on Wednesday, Nov. 22, and their deployment wasn't confirmed until Saturday, Nov. 25. It was a quick turnaround during a holiday weekend for the two, who each will be leaving their families for nearly three weeks.
They said they expect to work 16 hours per day, seven days a week while in Puerto Rico.
"It's just nice to know we're going to be helping people recover from the devastation of the hurricanes while hopefully coming home with some information to help the company during its next storm response," Olson said.
"I'm very proud and appreciative of Stephanie and Becky for stepping up and taking on this challenge. It will be an excellent learning opportunity, but in addition their work and sacrifice is so important to the restoration of power in Puerto Rico," said Chris Fleege, senior vice president – Minnesota Power operations. "I've been very impressed in the wake of these storms with how utilities are stepping up and helping each other, from Florida to Texas to Puerto Rico … and very proud to be part of the EEI family that supports one another when it's needed the most."
In addition to people, Minnesota Power has also been reviewing material requests and submitted a list of material, such as power poles and transformers, that matches PREPA requests, but the material hasn't been approved.