St. Scholastica speakers' series on ethics features Nicole Johnson
November 2, 2018
---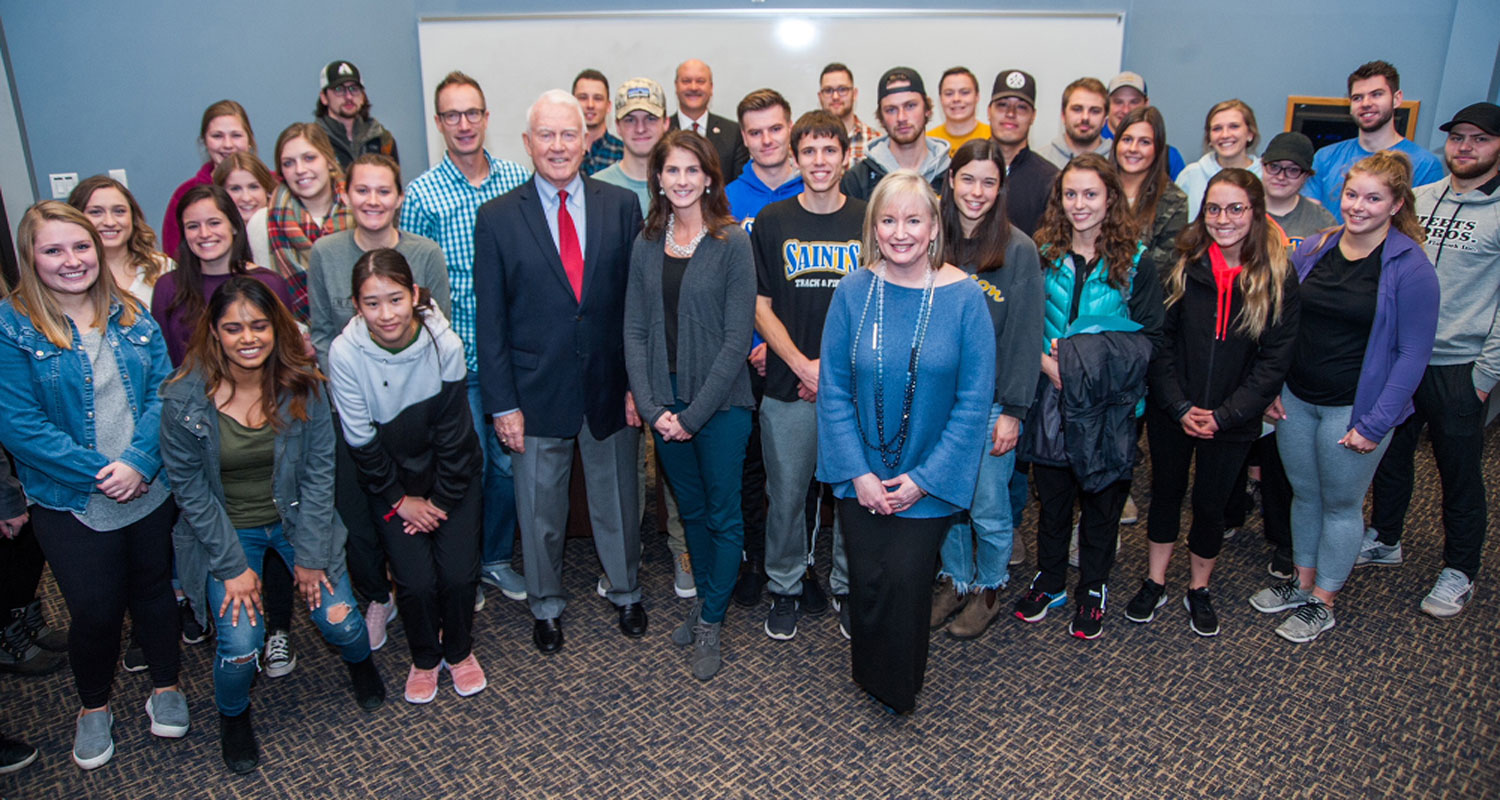 ---
Nicole Johnson, ALLETE vice president of Human Resources, was featured recently as part of a speakers' series by the Sandbulte Center for Ethical Leadership at the College of St. Scholastica in Duluth.
Johnson spoke to students, many from the college's School of Business and Technology, and faculty members on Nov. 1 as part of the series that includes entrepreneurs and executives. Special guests were Al Hodnik, ALLETE chairman, president and CEO; Bethany Owen, senior vice president ALLETE and chief legal and administrative officer; and Arend Sandbulte, former Minnesota Power CEO and ALLETE board chairman and the center's namesake.
ALLETE is the parent company of Minnesota Power.
Johnson, who joined ALLETE as an intern in 1996 and was named vice president in 2016, spoke about her leadership journey; ALLETE's business of providing security, comfort and quality of life; and how ALLETE incorporates ethics and integrity in everything it does. She encouraged students to take personal responsibility, be intentional in what they do, find mentors, pay attention to their own growth and development, be their authentic selves, and maintain and live out their values.
"It is critical we cultivate an environment — at work, at home and in our community — that reinforces the importance of integrity and values in all that we do," Johnson said. "I was humbled and honored to represent ALLETE and share how Mr. Sandbulte's legacy lives on."
Johnson is the latest of several ALLETE leaders who have participated in the Sandbulte Center's speaker series. Hodnik spoke in 2014, retired CFO Steve DeVinck spoke in 2016 and Owen spoke in 2017.
"It is so helpful for our students to meet and learn from real-world leaders like Al Hodnik, Bethany Owen and Nicole Johnson," said Rick Revoir, interim dean of the CSS School of Business and Technology and director of the Sandbulte Center. "Their speeches are inspirational for students because Al, Bethany and Nicole have achieved great success through their hard work, teamwork and actions that are guided by strong values and ethical behavior."
Audio of Johnson's speech and other Sandbulte Center speakers is available through the Sandbulte Center's webpage. Click here for more information about the Sandbulte Center, which works to help strengthen St. Scholastica's focus on teaching ethics to integrate sound decision-making in many facets of students' lives.