ALLETE/Minnesota Power recognized for support of service members and families
May 22, 2017
---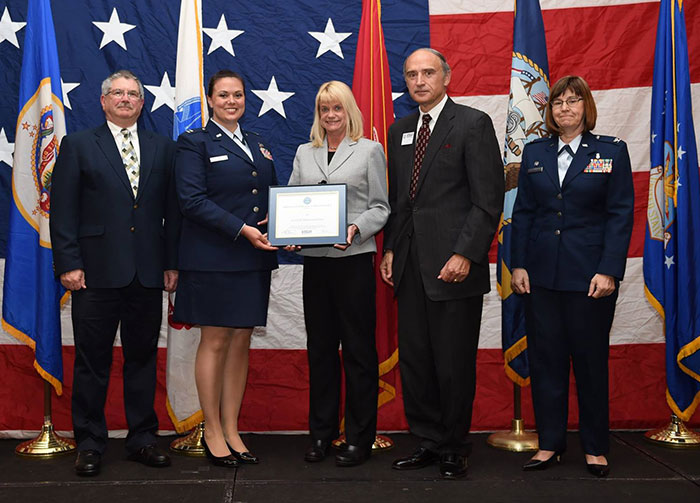 ---
ALLETE/Minnesota Power was honored by the state Employer Support of the Guard and Reserve at an awards ceremony May 8 in Minneapolis. The "Above and Beyond Award" recognizes employers who offer employees who are members of the National Guard and Reserve additional benefits above the legal requirements of the Uniformed Services Employment and Reemployment Rights Act.
The ESGR, a Department of Defense program established to promote cooperation between service members and their civilian employers, honored 27 employers with the prestigious award. Kathryn Koch, a member of Minnesota Power's Yellow Ribbon Steering Committee, accepted the award on behalf of the company.
"It was truly an honor to accept this award on behalf of Minnesota Power and be included with such an esteemed group of employers," Koch said. "To know that it was a grassroots effort of our employees that led to this award makes it that much more meaningful."
Employers must be nominated by a currently serving military member and Minnesota Power was nominated by Jennifer Peterson, a captain in the Minnesota Air National Guard and a member of the Yellow Ribbon Steering Committee.
In her nomination, Peterson outlined the company's pay differential policy, veteran-focused recruiting efforts, support for employees while on military deployments, sponsorship of events for military-connected employees and support for community initiatives involving veterans.
In addition, in recent years several Minnesota Power leaders have received individual ESGR awards for their support of their military employees, demonstrating to the selection committee a culture of support for military employees at the company. Pat Mullen, senior vice president ALLETE-external affairs, received the Seven Seals Award in 2016; Luann LaValley, former director of customer service, received the Patriot Award in 2015; and Diana McFadden, manager procurement and vegetation management, received the Patriot Award in 2013.
Minnesota Power was designated a Yellow Ribbon company in 2016. Overseen by the Minnesota Department of Military Affairs, the Beyond the Yellow Ribbon program supports service members, veterans and their families by connecting them with career counseling, professional development and employment resources. To earn a Yellow Ribbon designation, companies must build relationships with local military leaders, identify which employees have military connections and commit to hiring, supporting and retaining veterans.