ALLETE honored for helping pave the way for women in leadership
May 7, 2018
---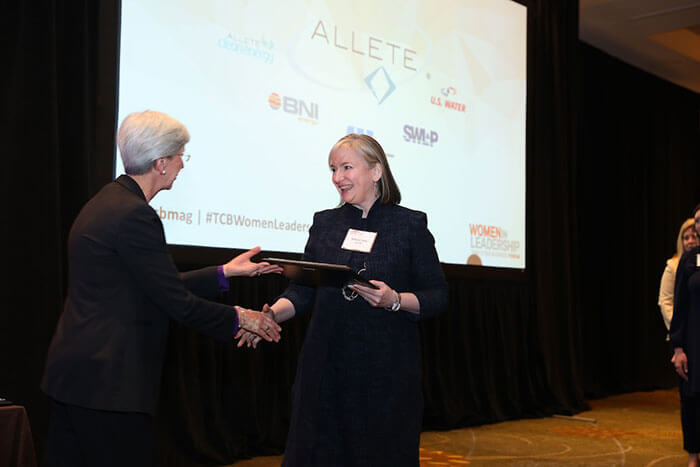 ---
ALLETE recently received recognition for its success in advancing women in leadership roles.
The 2017 Minnesota Census of Women in Corporate Leadership named ALLETE an Honor Roll company because of the number of women serving on the ALLETE board of directors and in executive positions. The company also was named a 2020 Women on Boards winning company for its commitment to board gender diversity.
Minnesota Census of Women in Corporate Leadership
ALLETE is among 19 out of 72 public companies in Minnesota with women representing at least 20 percent of corporate directors and 20 percent of executive officers, according to the Minnesota Census of Women in Corporate Leadership.
St. Catherine University in St. Paul produces the report that examines the percentage of women in leadership roles at the largest publicly held companies headquartered in Minnesota. The Women's Foundation of Minnesota and YWCA Minneapolis co-sponsor the report, which is in the April edition of Twin Cities Business magazine.
In 2017, three women—Madeleine Ludlow, Heidi Jimmerson and Kathryn Dindo—served on the 12-member ALLETE board. This year, Susan Nestegard made it four when she joined the board in January. Ludlow and Lead Director Jimmerson are the two longest-serving ALLETE directors, illustrating the fact that gender diversity is nothing new at the company. Three of nine ALLETE executive officers are women: Deb Amberg, senior vice president ALLETE, chief strategy officer of regulated operations, and SWL&P president; Bethany Owen, senior vice president ALLETE and chief legal and administrative officer; and Nicole Johnson, vice president of ALLETE Human Resources.
In addition, women hold key executive leadership roles in ALLETE's business units. They include Laura Schauer, ALLETE Clean Energy chief financial officer; Julie Pierce, vice president of Minnesota Power strategy and planning; and Lisa Miller, vice president of Human Resources at U.S. Water.
Owen and ALLETE Chairman, President and CEO Al Hodnik were in St. Paul on April 10 to accept the award at an event for Honor Roll companies. Owen said the company is honored by the recognition but aware that more progress needs to be made.
"The ALLETE board and executives understand very well the strategic advantages and contributions that women bring to the conversation and to growing the company," Owen said. "To build on our success, we must continue to seek out and embrace diversity in all forms. ALLETE is absolutely stronger when we are collaborating and listening to more voices."
Owen said ALLETE encourages all of its employees to take advantage of opportunities to grow, express their opinions and develop their leadership skills.
Read the 2017 Minnesota Census of Women in Corporate Leadership report here. Owen was interviewed as part of the report (see page 8), which is published as a supplement to Twin Cities Business magazine.
Read more about the 2017 Minnesota Census of Women in Corporate Leadership here.
2020 Women on Boards
ALLETE also has been recognized for championing board diversity by 2020 Women on Boards for the seventh consecutive year. 2020 Women on Boards is a national campaign to increase the number of women on corporate boards to 20 percent by 2020.
Winning companies have 20 percent or more of their board seats held by women. ALLETE is one of 1,151 companies in the campaign's database of 3,192 companies to achieve this recognition.
Find more about 2020 Women on Boards here.