Minnesota Power's Rosemore guides mentorship program for women in hydro
April 30, 2018
---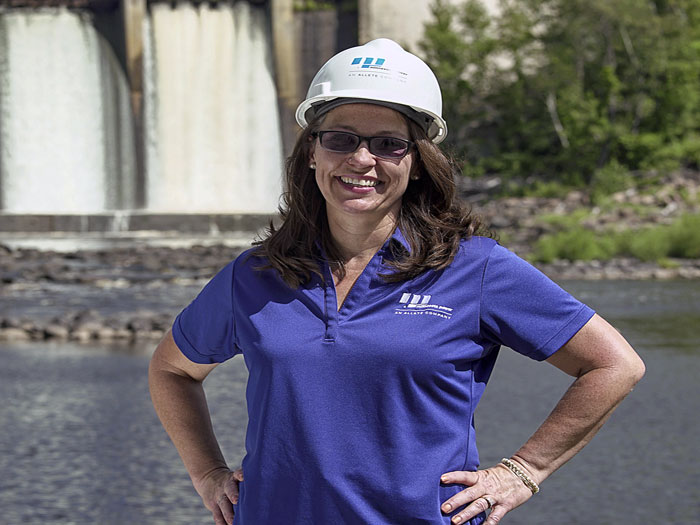 ---
When Nora Rosemore won a Women with Hydro Vision award in 2016 at the HydroVision International conference, she thanked her mentor for helping boost her career at Minnesota Power and her confidence.
Rosemore said about six women approached her after that award ceremony and asked how they could take part in the mentorship program. There was a problem with that—her connection with mentor Deb Mursch of General Electric was part of a mentorship program organized by the Northwest Hydroelectric Association that was no longer operating. Mursch urged Rosemore, generation operations superintendent at Minnesota Power, to get the program restarted, and Rosemore ran with the idea.
She formed a steering committee later in 2016, and the Women in Hydropower Mentorship Program launched in 2017. The program found its support from the National Hydropower Association, Northwest Hydroelectric Association, Midwest Hydro Users Group and PennWell's HydroVision.
In that first year, the eight-member steering committee chaired by Rosemore was hoping for 20 participants and 10 mentor-protégé pairs. They ended up with more than 80 applications and 48 mentorship pairs.
"We knew there was interest within the industry, but we were so excited to receive over 80 applications in 2017," Rosemore said. She was so busy leading the steering committee that she didn't initially volunteer as a mentor that year, but ended up mentoring a woman who works at the Department of Energy in Washington, D.C.
Rosemore's role in organizing the mentorship program has contributed to the program's success and its international expansion with support from the Canadian Hydropower Association, International Hydropower Association and Hydro-Quebec.
As only the third woman to join MP's hydro operations, Rosemore said the hydropower industry, like most engineering-dominated fields, has long been a male-heavy field. But that is changing as the number of women in the industry grows.
"It's still not at parity, but the demographics of the industry are shifting," she said.
The mentorship program for women provides an opportunity for women to connect, generate new friendships and share experiences in a supportive environment that highlights the contributions women make to the hydro industry. The goal is to create meaningful connections in which the mentor and protégé collaborate in the protégé's success. Each mentorship pair is unique and adopts a relationship style and format for their one-hour monthly meetings that works for them.
Rosemore said Mursch, her mentor, helped her with everything from planning meetings and facilitating group discussions to sharing contacts to help her line up panelists for a HydroVision panel she facilitated.
"I found a new friend, and that's what I hope this program does for other women," she said.