Minnesota Power Foundation gives $25,000 to bolster hands-on STEM program for fifth-graders
April 23, 2019
---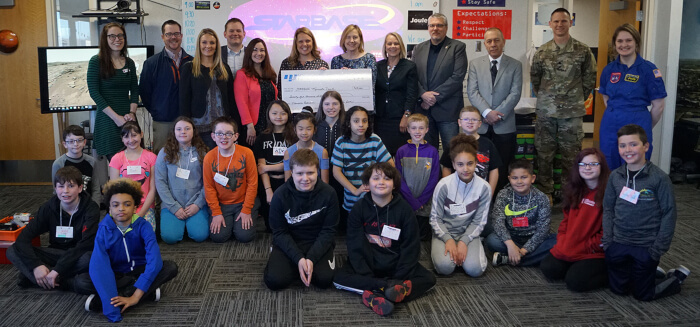 ---
A $25,000 gift from the Minnesota Power Foundation will boost a program that aims to inspire and educate youth in science, technology, engineering and math.
Aimee Curtis, Minnesota Power Foundation administrator, and Lori Hoyum, policy manager at Minnesota Power, recently presented the check to STARBASE Minnesota Duluth. It's the first major sponsorship in the organization's campaign to raise money to equip four classrooms at the 148th Fighter Wing in Duluth with cutting-edge technology for STEM-related instruction, including computer aided design and 3D printing.
Headquartered in St. Paul, STARBASE Minnesota expanded to Duluth in July 2017, where the nonprofit offers its unique learning experience to fifth-graders in two transitional classrooms at the 148th Fighter Wing. A planned expansion at Fighter Wing headquarters will provide STARBASE with four dedicated classrooms.
"Expanding the program and doubling the number of classrooms will enable STARBASE to serve more students from a wider area in northeastern Minnesota," said Hoyum, who serves as vice chair on the STARBASE Advisory Board. "Fifth-graders from communities on the Iron Range, up the North Shore and down the I-35 corridor will be able to participate in this one-of-a-kind, hands-on learning experience that broadens a student's world in ways that the traditional classroom isn't able to."
The program currently is at capacity, serving 1,400 students annually. The expansion will allow the program to serve more than 2,500 students each year.
Students spend 25 hours across five days focusing on real-world problem-solving and applications. Guided by a team of licensed instructors, students conduct scientific experiments to learn more about the engineering design process, robotics, rocketry, navigation, biology and more; use software to design projects that are brought to life using 3D printing technology; and learn about careers in STEM-based fields.
"We are delighted that Minnesota Power has joined STARBASE as the first classroom sponsor of the capital campaign project to expand our program over the course of the next year," said Charity Rupp, STARBASE Minnesota – Duluth director. "The partnership with Minnesota Power is a natural fit for the immersive STEM education curriculum that STARBASE provides to students. The emerging technologies being utilized for the purposes of energy and resource exploration go hand-in-hand with what the students are learning each day at STARBASE."
In addition, scientists, engineers and other professionals in STEM careers at Minnesota Power are helping to inspire students by sharing with them what they do in their work.
"Opening up the world of STEM to students at this age is critical as we think about growing and retaining the workforce in greater Minnesota," Rupp said. "Our region is home to businesses like Minnesota Power that need workers with STEM skills. STARBASE can contribute to the area's workforce development by helping equip students and paving the way for them to find career opportunities in STEM fields that exist right here."
STARBASE was created in 1991 and is a program of the Department of Defense and Minnesota National Guard. Its free, hands-on STEM curriculum aligns with state and national standards.