The Windy Classroom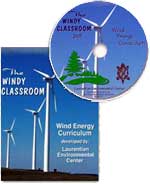 Generate interest in renewable wind power with this CD-ROM developed in partnership with the Laurentian Environmental Learning Center, Minnesota Power, Great River Energy and the Minnesota Department of Commerce.
It provides a full curriculum to educate students about electrical energy, the benefits and limitations of wind energy generation, the connection between energy consumption and production, and tips for home energy conservation.
A limited number of free copies are available.
Email Aimee Curtis at acurtis@mnpower.com to order. Please include your name, address and contact phone number in your request.