/

/

/

/

Power of One Action Plan
Power of One Action Plan
Where do I begin to make effective energy choices?
By first understanding how you use energy and then learning more about the right options available to you. Throughout this site, Minnesota Power provides a number of tools, references, and calculators to help you prioritize steps and develop and implement an action plan that's right for you and your home and helps you get the most for your energy dollar. It is designed to help transform passive energy users into active participants in energy choices.

Energy Tools
Resources that help you understand how you use energy and what you can do to manage your energy costs.
Energy-Saving Tools & Info
You can find a wealth of information ranging from heating and cooling to water heating and appliances in
new
and existing homes.
Home Energy Yardstick
Determine how your home uses energy in comparison with similar homes.
Home Energy Analysis
Standard In-Home Energy Analysis (HEA) (Audit)
A representative of Minnesota Power will visit your home and analyze how you use electricity, determine your electric energy use per appliance, and recommend efficiency improvements.
HEA with Building Diagnostics Services
Detailed building diagnostics involving blower door testing and infrared scanning.

Manage energy usage
Control energy costs
Increase comfort
Benefit the environment
Enhance durability and product life
Easy to use and convenient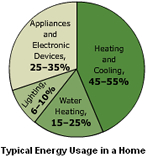 Energy-Saving Tips & Tools For Your Home
Tips for saving energy in your everyday activities.
The Pyramid of Conservation
A road map to energy effective choices from everyday choices to investments in energy-saving products.