Light Bulbs
Why ENERGY STAR® Approved Light Bulbs?
The ENERGY STAR® logo on packaging ensures the product has met strict energy efficiency guidelines and performance standards set by the US Environmental Protection Agency (EPA) and Department of Energy (DOE). LED bulbs last longer and save dollars while giving the same amount of light as the standard bulbs they replace.
ENERGY STAR® certified LEDs use 70%–90% less energy than traditional bulbs, last 10–20 times longer and can save you $30–$80 in electricity costs over the lifetime of the bulb. You can save approximately $30 per year by switching out five standard incandescent bulbs to LED bulbs!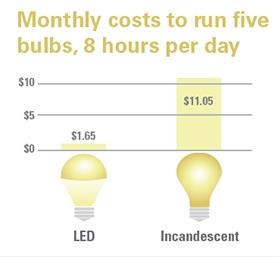 What are My Choices?
With the phasing out of standard incandescent light bulbs, you can decide to use a mixture of halogen, fluorescent or light emitting diode (LED) lighting in your home. When you make your decision on which type of bulb is right for your desired application, it is key to keep in mind energy-efficiency, life of bulb and value—how it works to meet your expectations. For example, halogen bulbs look like standard light bulbs but have a longer life and are more energy-efficient than incandescent bulbs. They also provide a little less light and give off a substantial amount of heat. Click here for more information.
Halogen Bulb Information
Halogen bulbs are somewhat more efficient than incandescent bulbs, but operate at an even higher temperature. These high operating temperatures can present a safety concern in some fixtures, such as torchiere fixtures which consume as much as 500 watts. Halogens are often used for recessed, accent and flood lighting.
| | |
| --- | --- |
| Initial Cost: | Low |
| Energy Consumption: | High |
| Lifetime: | Medium |
| Color Rendering Ability: | High |
| Operating Temperature: | High |