CFL Bulbs
For information about LED bulbs, click here

Change a Light, Change the World
A recent EPA report on opportunities to advance efficient lighting shows that the typical home has over 50 light sockets and 70% of these screw-in sockets are still occupied with inefficient light bulbs. With lighting representing 10%–15% of a customer's electric bill, or approximately $200 annually, there are many opportunities to use the right bulb in the right socket to save energy and dollars and benefit the environment.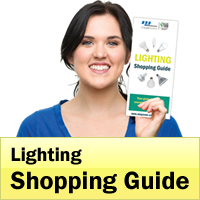 To make it easier to replace these inefficient light bulbs with energy-saving CFLs, lighting manufacturers have developed a growing list of CFLs tailored to your needs, such as dimmable, 3-way, and reflector floods and decorative lights such as globes and candles, designed for the right socket in your home. There are also shatter-resistant CFLs for garages and workrooms. Your challenge is to replace every screw-in socket in your home with an ENERGY STAR® qualified energy-efficient light bulb that is suited to the application and situation you desire. See Right Bulb for the Right Socket to develop an action plan for choosing the right bulb.
Every light we change to an ENERGY STAR® qualified light is a step in the right direction to preserve energy resources and our environment for this generation and the next. It will also help you save energy and dollars.
Compact fluorescent light (CFL) bulbs use up to 75% less energy, may last up to 10 times longer, and produce 75% less heat than traditional light bulbs. You'll get more light for your energy dollar (more lumens of light per watt of energy, or efficacy ).
Light bulbs, fixtures and lamps that have earned the ENERGY STAR® seal of approval reduce energy usage and greenhouse gas emissions by meeting strict energy efficiency criteria set by the U.S. Environmental Protection Agency (EPA) and U.S. Department of Energy (DOE).
If every household served by Minnesota Power used just one CFL, 7,920,000 kWh could be saved in one year.* What would the impact be if all your lighting sockets used energy-efficient light bulbs?
This is equivalent to:
Powering 689 homes for a year.
Saving over $649,440 in one year.
Reducing annual carbon dioxide emissions by over 8,649 tons which is equivalent to taking 1,730 cars off the road.**
* Relates to new and ongoing participation
** Based on Minnesota Power's 2008 environmental disclosure data
Note: Fluorescent bulbs contain a small amount of mercury and must be recycled at the end of their use.
Lighting Terms
Color Rendering Index (CRI) is a comparison of a light source's ability to accurately render the color of an object to that of a standard reference light source. The CRI scale is from 0 to 100, with a value of 100 indicating excellent color rendering. Sunlight and most incandescent lamps have CRI values of 100. Only compare the CRI values of light sources of roughly the same color temperature.
Color Temperature is a way to compare the color of light from different types of lamps. It is often referenced as cool (slightly blue) or warm (slightly orange). Incandescent lamps and candles give off warm color temperatures, while sunlight and some fluorescent lamps emit cool color temperatures.
Efficacy is a measure of light output (lumens) per watt of electrical power needed by the lamp. Lumens measure how much light is emitted. Watts indicate how much electrical power is consumed.