Existing Services
Please consult one of our customer service representatives or engineers when significant changes are being made to an existing service. Good communication will avoid delays in scheduling and prevent unnecessary power outages. Our representatives will work with you to determine the best options for delivering service and insure the installation is built according to Minnesota Power Engineering Standards, per our filed Electric Service Regulations. Minnesota Power reserves the right to establish the point of delivery and collect charges incurred before a modified service is energized.
Some examples of when to contact us are:
Substantial increases in amperage requirements
Relocation of the service entrance
Disconnecting the meter
Changes to the meter location
Changing from overhead to underground
Requesting a different phase or voltage
Installs of Dual Fuel or Controlled Access equipment
Installing Generation
Minnesota Power will not charge customer/contractor for a line drop/temporary disconnect. These requests should be made through our Central Dispatch Area which can be reached at 218-720-2757 or 1-800-228-4966 (ext. 2757).
The following are requirements of OSHA regulation sections 1926.416(a) (1) and 1926.550 (a)(15).
1926.416(a)(1): Protection of employees. No employer shall permit an employee to work in such proximity to any part of an electric power circuit that the employee could contact the electric power circuit in the course of work, unless the employee is protected against electric shock by de-energizing the circuit and grounding it or by guarding it effectively by insulation or other means. (This requires a minimum clearance of ten feet for lines rated 50 kV or less, phase to ground).
1926.550(a)(15): Cranes. Except where electrical distribution and transmission lines have been de-energized and visibly grounded at point of work or where insulating barriers, not a part of or an attachment to the equipment or machinery, have been erected to prevent physical contact with the lines, equipment or machines shall be operated proximate to power lines only in accordance with the following (i) For lines rated 50 kV or below, minimum clearance between the lines and any part of the crane or load shall be 10 feet.
It is the responsibility of the customer/contractor to contact Minnesota Power to provide cover-up and to provide payment for the work requested, whether it is for residential service lines/equipment or commercial primary lines/structures.
If power has been off for over one year, MP requires a licensed electrical contractor to inspect all customer owned equipment and to certify that it is safe to energize. MP is not licensed to work on or inspect customer owned equipment. Energizing of the service must be done by Minnesota Power after the customer has made application for service to ensure proper billing.
Outside of the Duluth city limits, if no electrical work requiring an REI is done, a letter from a licensed electrical contractor is required. This letter must contain the customer name and the address of the service, the electrical contractors name and contractor's license number, and a statement that the service is safe to energize. Electricians should use their company letterhead to supply their contractor information.
Within the city limits of Duluth, a licensed electrical contractor will perform the inspection and notify the City Electrical Inspector. The City Electrical Inspector will then call Minnesota Power.
Letters and REI copies can be sent to Minnesota Power the following ways:
Fax – 218-720-2680
Email – cda@mnpower.com
Mail – Central Dispatch Area, Minnesota Power, 3215 W Arrowhead Rd, Duluth, MN 55811
Minnesota Power (MP) allows licensed electrical contractors to perform temporary disconnects and reconnects on customer owned service conductors attached to MP overhead (OH) service wire. Services must be 120/240V single phase, self-contained of 320 amperes or less. All temporary disconnect and reconnect work must occur on the customer side of the permanent connectors (see illustration below).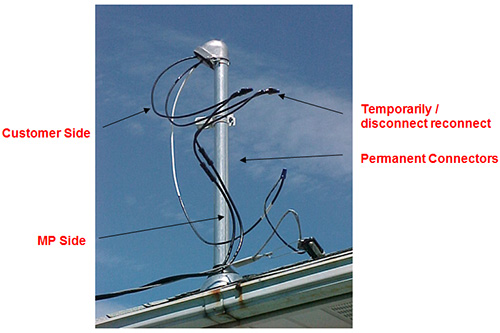 When MP receives a copy of the Minnesota Board of Electricity's request for electrical inspection (REI) or notification from local jurisdiction with inspection authority, we will then schedule line crews to confirm that a permanent connection can be made.
Homeowners are not allowed to perform these temporary disconnects and reconnects. Only a licensed electrical contractor is allowed to perform this work and only on 120/240 volt single phase, self-contained services.
If you do not feel comfortable doing this work, please call to schedule an appointment to have MP line personnel temporarily disconnect and reconnect the service.
If the work involves energizing a new overhead service immediately next to a service that will no longer be energized, disconnect on the customer side of the permanent connectors and energize the new socket. It is important that there is no load on either socket when this is done. After you disconnect the main breaker/fuse on both panels, cut the seal on the meter of the old socket, remove the meter from the old meter base, and place the meter in new socket base. If for some reason there are problems, please contact MP immediately.
Only a qualified MP Lineworker should be handling the service wire. You are not allowed to move the MP service wire to a new point of attachment. If the point of attachment needs to be relocated please install the new point of attachment and call to schedule an appointment for MP to swing the service wire to the new point of attachment.
When installing a new point of attachment keep these standard clearances in mind per the NESC (National Electric Safety Code).
Over street, alley, public roadway, parking lot, drive-in, commercial, industrial and farm areas.
16' minimum
Over residential driveways
15'6" minimum
Note: Interpretation of the NESC allows for specific clearance exceptions to this table.
Allowing these temporary disconnects and reconnects gives MP more flexibility with scheduling permanent connections and allows the licensed/bonded electrical contractor to be more efficient and flexible in their work.
To schedule appointments or if you have any concerns, or questions, please call 218-720-2757 or toll free at 1-800-228-4966 ext. 2757.
Thank you for your cooperation and partnership in providing safe, reliable electric service to our customers.