/

/

/

/

Right Bulb for the Right Socket
Right Bulb for the Right Socket
Have a Plan Before You Go Shopping for Light Bulbs
Here are some things to keep in mind:
The room to light and the purpose of the lighting
Amount of brightness you desire (Lumens , not watts, is the measure of brightness)
Light color—color temperature (Kelvins)
Slightly blue (cool) to slightly orange (warmer)
Accuracy of colors in a room (look for a Color Rendering Index greater than 80)
Distribution of the light : non-directional—best for area lighting (CFLs or halogens) or directional—best for task or directional (downlights, narrow spots to wide floods) lighting (LEDs)
Review the True Cost of a Light Bulb. Keep in mind efficacy or Lumens/watts as a means of energy efficiency and look for ENERGY STAR® approved bulbs.
Take the Shopping Guide to the store with you. Also make sure you read the information on the product box to ensure the light bulb is the "right fit" for your desired application.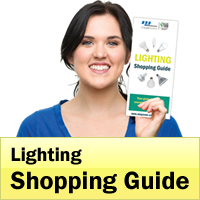 Learn How Lumens Can Help You Choose the Right Bulb
Choose the Right Bulb for the Right Socket for Any Room in Your Home
LED Bulbs

Living Room
LEDs for reading lamps, area lighting (reflector floods) and 3-way table lamps.

Kitchen
LED directional downlights for recessed cans or track lighting for food preparation areas (distribution of light can vary from wide floods to narrow spots).

Dining Room
LEDs work best for downlight floods in recessed cans and spots for track lighting. LED candle lights work best in chandeliers. Dimmable LEDs for dimmer switches.

Bedroom
LEDs for table lamps and overhead fixtures.

Bathroom
Globe-shaped LEDs for vanity lighting and LEDs for overhead fixtures.

Closet
Standard LED bulbs to reduce heat output.

Garage
LED downlight floods for inside and outside the garage or deck area. Make sure selected LED bulbs are rated for outdoor use.

Note: If the bulb is to be used in an enclosed fixture with a dimmer switch or for outdoor use, make sure that it is rated for that application. It should be noted on the product box.
Lighting Terms and Performance Criteria
Lumens are a measure of brightness, not watts. Lumens indicate how much light is emitted. Watts indicate how much electric power is consumed. (See efficacy rating for a measure of energy savings.)
Color Temperature (CCT) is a way to compare the color of light from different types of lamps. It is often referenced as cool (slightly blue) or warm (slightly orange). Incandescent lamps and candles give off warm color temperatures, while sunlight and some fluorescent lamps emit cool color temperatures. (See Kelvin (K) temperature scale.)
Color Rendering Index (CRI) is a comparison of a light source's ability to accurately render the color of an object to that of a standard reference light source. The CRI scale is from 0 to 100, with a value of 100 indicating excellent color rendering. Sunlight and most incandescent lamps have CRI values of 100. Only compare the CRI values of light sources of roughly the same color temperature. (CRI should be ≥ 80.)
Distribution of the light refers to omni-directional (area lighting) or uni-directional (directional lighting). Directional lights are often referred to as downlights or PAR lamps and used as flood or spot lighting for recessed cans and track lighting indoors, and flood lights outdoors. Directional lamps vary from wide flood to narrow spots.
Efficacy is a measure of energy usage. Just as you measure miles per gallon, efficacy measures light output (Lumens) per watt. Lumens measure how much light is emitted and watts indicate how much electric power is consumed. The higher the efficacy the more energy and dollars you save. ENERGY STAR® approved bulbs have a minimum efficacy of 42 (most have between 45–60). This is why the Department of Energy (DOE) says CFL and LED bulbs use up to 75% less energy than the standard bulbs they replace while delivering the same amount of light (Lumens) with less power (watts).
Halogen Bulb Information
Halogen bulbs are somewhat more efficient than incandescent bulbs, but operate at an even higher temperature. These high operating temperatures can present a safety concern in some fixtures, such as torchiere fixtures which consume as much as 500 watts. Halogens are often used for recessed, accent and flood lighting.
| | |
| --- | --- |
| Initial Cost: | Low |
| Energy Consumption: | High |
| Lifetime: | Medium |
| Color Rendering Ability: | High |
| Operating Temperature: | High |
Why ENERGY STAR® Approved Light Bulbs?
The ENERGY STAR® logo on packaging ensures the product has met strict energy efficiency guidelines and performance standards set by the US Environmental Protection Agency (EPA) and Department of Energy (DOE). CFL and LED bulbs last longer and save dollars while giving the same amount of light as the standard bulbs they replace. This is why the Department of Energy says they use about 70-90% less energy.