Refrigerators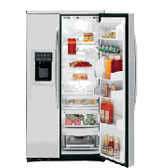 An energy-efficient refrigerator can lower your energy usage (kilowatt hours (kWhs)) each month for years to come. Remember, every unit of energy (kWh) saved is one less that you need to pay for. The new design of refrigerators has greatly improved the energy performance. Look for heavy door hinges which create a good seal; this prevents cold air from escaping.
The benefits of ENERGY STAR® qualified refrigerators include:
More efficient compressors


Better insulation


Savings of $35–$70 a year compared to a 1986 model, which add up to $700 to $1,400 over the average 20-year life
Frequently Asked Questions
The refrigerator is the single biggest power consumer in most households. A typical refrigerator made around 1990 uses over 900 kilowatt hours (kWhs) per year—that's the same amount of energy you would use by leaving a 1,250 watt hairdryer on for a month! And the older your refrigerator is, the more power it burns. ENERGY STAR® labeled refrigerators incorporate a number of advanced features to save energy while keeping your food fresh. To make a better refrigerator, manufacturers use the following:
Better insulation
More efficient compressors
Improved heat transfer surfaces
More precise temperature and defrost mechanisms
Your refrigerator's compressor generates heat. ENERGY STAR® labeled refrigerators use improved insulation so the compressor needs to run less often. This keeps your kitchen cooler, reducing the need to air condition. ENERGY STAR® refrigerators are 15% more efficient than non-qualified models and are 20% more efficient than models that simply meet the federal minimum standard for energy efficiency.
All ENERGY STAR® refrigerators qualify for the rebate.
ENERGY STAR® certified refrigerators are required to use about 20% less energy than non-certified models. Choose a new certified model rather than a standard model and cut your energy bills by more than $125 over the lifetime of your fridge.
Here are some tips for buying a new refrigerator:
Top freezer models are more efficient (use 10%–25% less energy) than side-by-side models or bottom-mount models.
Automatic ice makers and through-the-door dispensers will increase energy use by 14%–20% and increase the purchase price by about $75–$250.
The most energy-efficient models are in the 16–20 cubic foot sizes. Generally, the larger the refrigerator, the greater the energy consumption. Too large a model will waste space and energy; too small a model could mean extra trips to the supermarket.
It is usually less costly to run one larger refrigerator than two smaller ones.